Eco friendly headband
Our eco friendly headband is locally and ethically sourced. We've taken the eco friendly hair accessories to a new level with this product by sourcing not only just in the United Kingdom, but from the town next to us. The material for this fashion style headband is sourced from local charities. We buy unwanted knitwear clothing from charity shops and our eco friendly crocheter unravels the styles, washes them and re-makes them into our amazing eco friendly headbands. The range of colourful choices currently include navy blue, black and cream. We hope to introduce other colours like brown in the future.
Shopping the DVR Equestrian website store means your headband can we worn with integrity knowing it is as eco friendly as we could make it, we care for the world and create every quality wardrobe staple with the planet in mind. Our headband is designed to function well from summer to winter. The headband will keep your head warm but won't make you too hot too quickly like some thicker headband styles can. You can wear our luxe headband in summer due to the crochet meaning the holes will keep a breeze going through and keep you comfortable, perfect if you want something to put over your hair after riding. A headband is eco friendly and can be perfect if you've forgotten your hair ties.
Eco friendly hair accessories
The eco friendly hair accessories DVR Equestrian currently have on sale include our headbands and organic cotton caps. Our headbands are very popular and we hope to introduce scrunchies and hair ties as soon as we can from recycled plastic bottles too, so you have something to put your hair up with when you need it. We want to create soft hair accessories for women other than just hats, that keep your head comfy and warm. If you have any preferences for products to keep your hair out the way or cover up hat hair, please get in touch. Our headband is a firm favourite and we really hope you love it!
Organic Cotton
Wearing one of our organic cotton caps will keep you comfortable in the sun and your hair out of your face or off of your neck if you put your ponytail through the back. We sell these styles in a colour range of black and beige, matching perfect with any hair colour. You'll keep them for life and use them to keep your head comfortable whether you're up the yard or on holiday. Shipping is low cost for this product too. Organic cotton caps are great for enjoying the sun. Use hair ties to pop your pony tail through the back and it's a great option of hair accessories for hat hair. Caps are core wardrobe staples and key fashion accessories to work alongside any of your clothing. They're hair accessories that keep your hair out the way and shield you from the sun. You can see our organic cotton caps on our website under accessories. Another great thing about organic cotton is it is very soft, meaning it will be kinder to your hair as well.
GOTS certified organic cotton
The amazing thing about organic cotton is that it uses no pesticides in comparison to the scary amount used for conventional cotton which is causing a lot of harm around the world. GOTS certified organic cotton is more eco friendly and a certification that means you can trust the product is definitely organically sourced. DVR Equestrian have a range of GOTS organic cotton t-shirts available with great shipping prices too.
Let us know of any head or hair accessories you'd like to see from DVR Equestrian.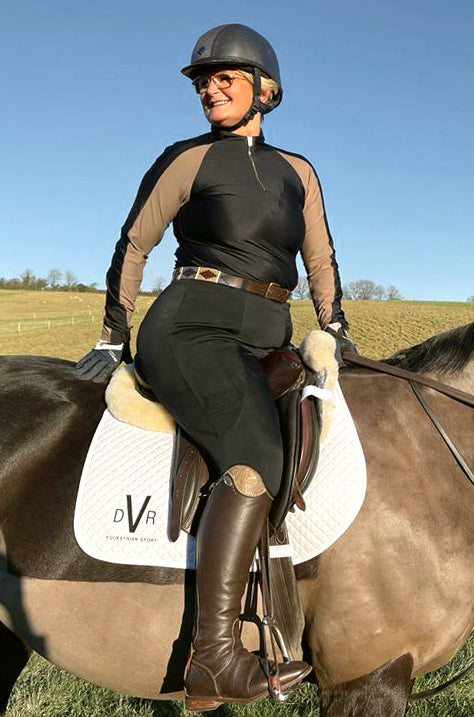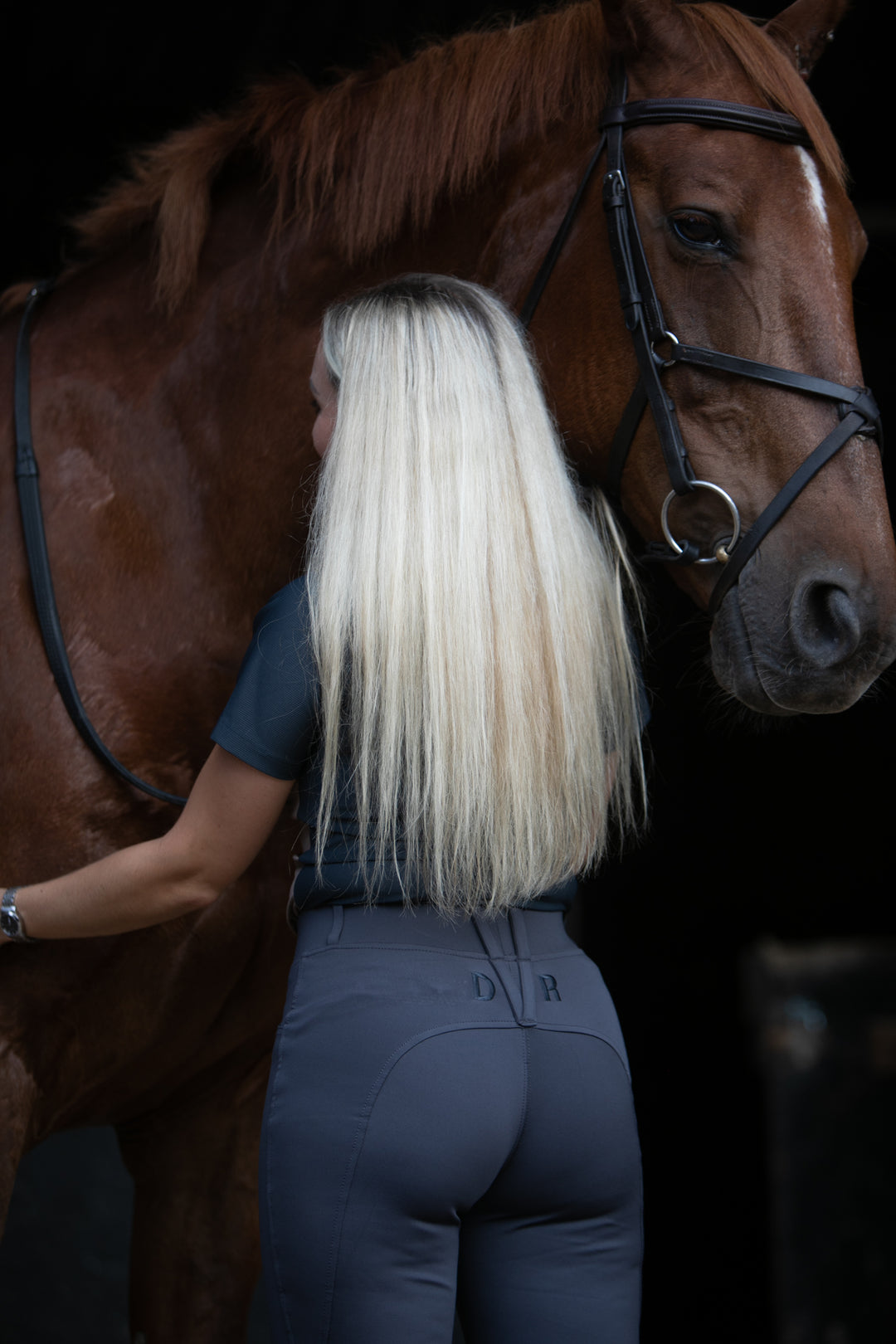 flattering fit
FEEL YOUR BEST
All our styles are designed to flatter every body shape in the saddle. Whether it's our leg panelling or contrast under sleeves, we design to accentuate and enhance, so you feel your best.