Sustainable equestrian clothing
DVR Equestrian womenswear includes eco-friendly equestrian wear such as recycled jodhpurs, sports bras, competition shirts, tops, t-shirts and more. Our sustainable equestrian wear is designed to go with everything in your wardrobe and be comfortable and stylish. We use sustainable fabrics and recycled fabrics as much as possible and our products are ethically made. We wanted to create beautiful womenswear for country pursuits that is comfortable, durable, practical and most importantly, looks great. We wanted our designs to be very unique and signature to DVR, but still subtle and sophisticated. We concentrate on design details such as tonal logo embroidery, contrast contouring panelling designed to accentuate both in and out the saddle.
Luxury equestrian clothing
Our luxury equestrian clothing is carefully designed to be as practical as they are stylish. Our sustainable jodhpurs feature long side pockets, belt loops and silicone grip on the inside leg. Our luxury base layers are ethically made in England and feature thumb holes, high quality 1/4 zips and signature contrast panelling on sleeves to contour from every angle. We use high quality technical luxury fabrics made in Italy. 
Is luxury clothing more sustainable?
Arguably the more we spend on our clothing and understand our clothing, the work that's gone into the planning, designing and producing of an item of clothing, the more we're likely to care about it, look after it and make it last. Like anything in life, the more value we place on it, the better we look after it. This is why explaining the processes behind our products from start to finish is important to us to encourage our customers to look after their equestrian clothing as much as they do the other clothing in their wardrobe. We decided we'd prefer to put a lot of effort, time and research into creating the best products, even if they have to sit at a luxury price point, rather than cutting corners to create low cost equestrian wear that won't be loved and treated in the same way by its wearers. We want our customers to feel great putting on their DVR. To know what the clothes stand for. What they're saying about them and their values, and that they have value for money because of what we put into the design process and brand efforts.
Ethically made luxury equestrian clothing
Our luxury equestrian wear is ethically made in trusted factories and by our trusted seamstresses. Our UK made products such as our hat silks and head bands are hand made by seamstresses and crocheters that our founder personally knows. Our UK made base layers are made in a factory that mainly work with high end fashion brands. The majority of our designs are made in Portugal. Portugal is brilliant for high quality sportswear and worker's rights too. We work with a progressive factory who specialise in sustainable clothing manufacture. Our Penny pull on jodhpurs are made in India from another trusted factory. We have lots of information on this factory in the product description of the Penny pull on jodhpurs. 
Equestrian clothing made with care 
Everything we produce at DVR Equestrian is made with care and dedication to quality. We are a small brand and we are always learning and working to improve our products. We offer free repairs on our products in order to keep our customers enjoying their products for longer. We can repair broken and split seams and replace broken zips. It is harder for us to repair ripped or damaged products, but we do our best to help all customers in any way we can to keep them enjoy their products for longer. We feel being a sustainable brand isn't just about using eco-friendly fabrics and packaging; it's about considering the full life cycle of our products and our repairs service is one way that we are working on this.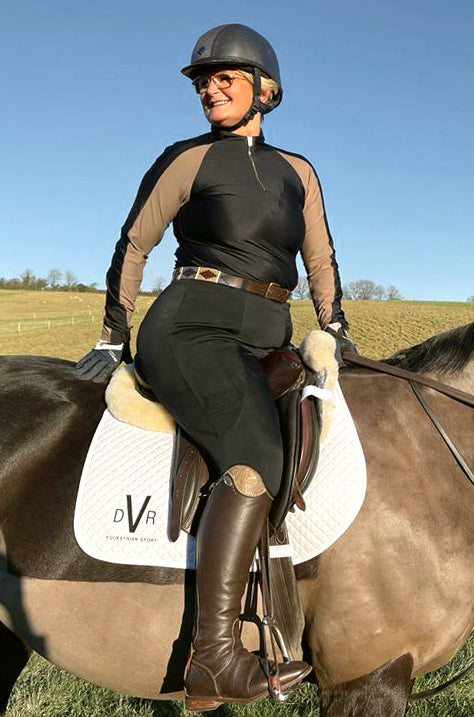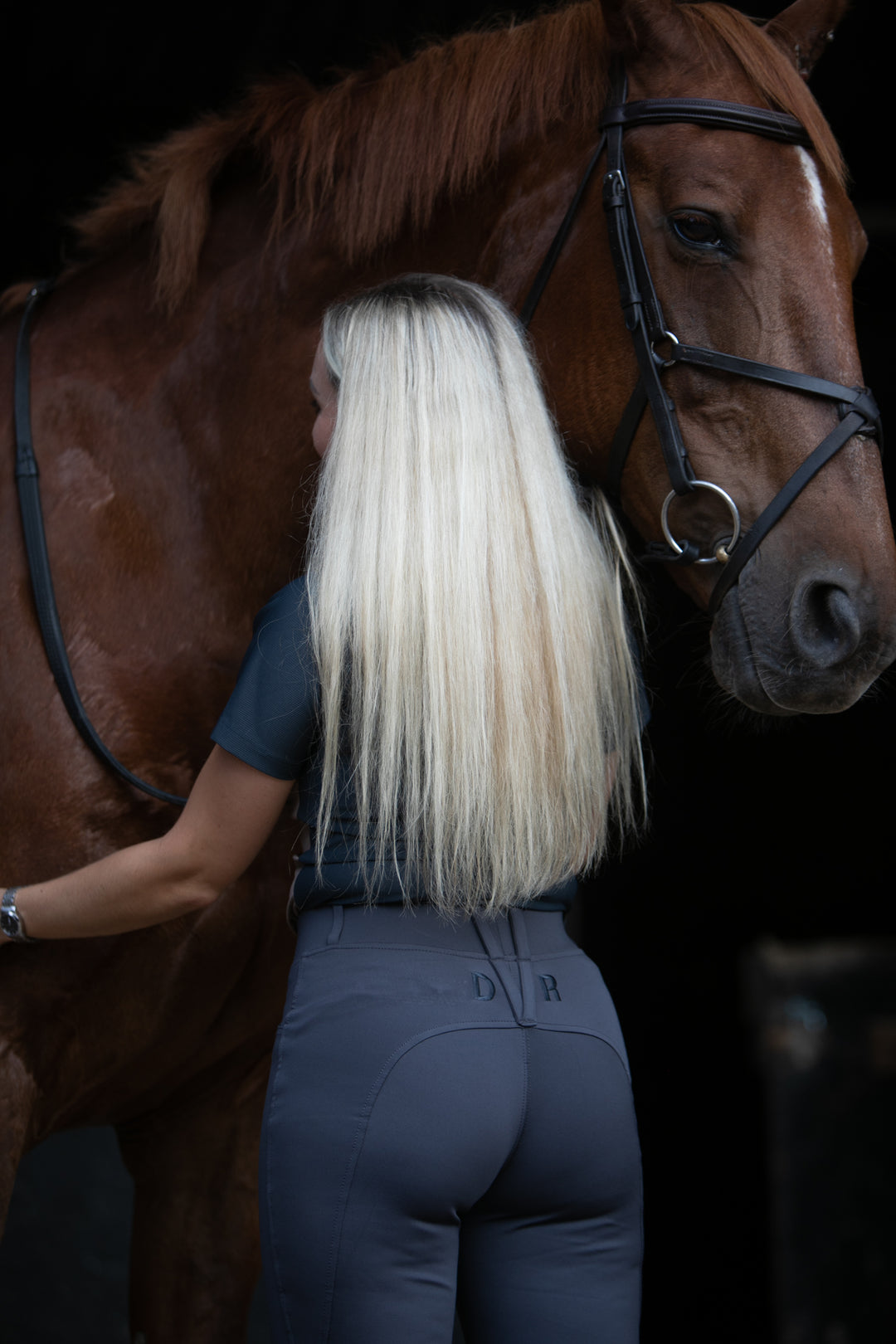 flattering fit
FEEL YOUR BEST
All our styles are designed to flatter every body shape in the saddle. Whether it's our leg panelling or contrast under sleeves, we design to accentuate and enhance, so you feel your best.